Adding data to your account - A quick overview
Get started with this quick 2-minute video, or read the full documentation below:
There are many ways to add data to your EnjoyHQ account
1) Connect Integrations
EnjoyHQ integrates with APIs of multiple cloud services. If you use any of those services, you can connect them to EnjoyHQ in a few clicks.
You can find a list of our current integrations and a guide on how to connect each one here
We are constantly adding more integrations, so if you can't find the one you are looking for - just drop us a line at support@getenjoyhq.com
How to connect an integration:
If you are an
Administrator
go to the user menu, choose
Integrations
and you will see all the integrations available to you. Click on the integration you want to connect and follow the instructions.
During your trial, we sync up to 5K of the most recent documents for the following integrations: Zendesk, Desk, Intercom & Drift. Once you become a paid customer you can request all of the historical data.
2) Upload Documents and Spreadsheets
You can upload documents to EnjoyHQ in any of the following formats: .doc, .csv, .xls. You can upload documents & spreadsheets from your desktop or a network share.
We also support services such as  Google Drive, Dropbox, One Drive, or Box  - you can import your files directly from these sources.
How to upload files: Simply click on the cloud icon and select from 'Upload Document' or 'Import Spreadsheet'. You can access your full menu of uploads including integrations in your Account Settings. Learn more about how to import your spreadsheets here.
You can upload files in the Search area and in your Projects.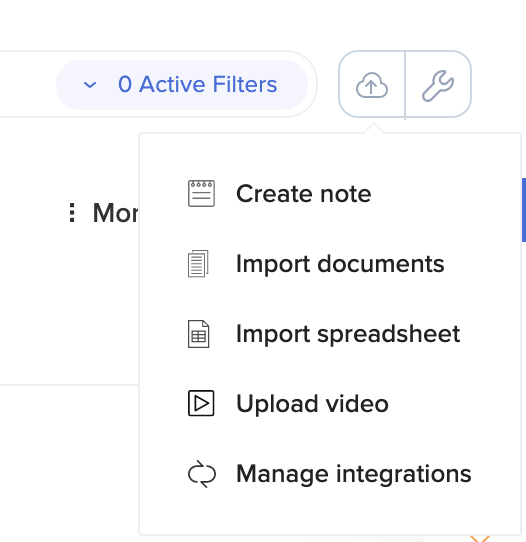 3) Upload video
You can embed videos in notes or upload video files directly to your account. Your videos will show in a player and you can add extra information to them anytime.
Read more about uploading videos and automatic transcripts.
4) Create a Note
From customer interview notes to feedback spread on the web, you can capture it easily using notes.
How to create a Note: Simply click on the cloud ☁ icon and select "create note". Learn more about creating notes here.
5) Forwarding Emails
Your EnjoyHQ account comes with a unique email address, meaning you can forward emails from your inbox straight to EnjoyHQ.
How to forward emails: Simply go to your Account area > Integrations Click on the Email icon, which will generate your unique email address. You can forward any relevant emails to this address and let EnjoyHQ get insights for you. It will take a few minutes for your email to load into EnjoyHQ. Learn more about forwarding emails here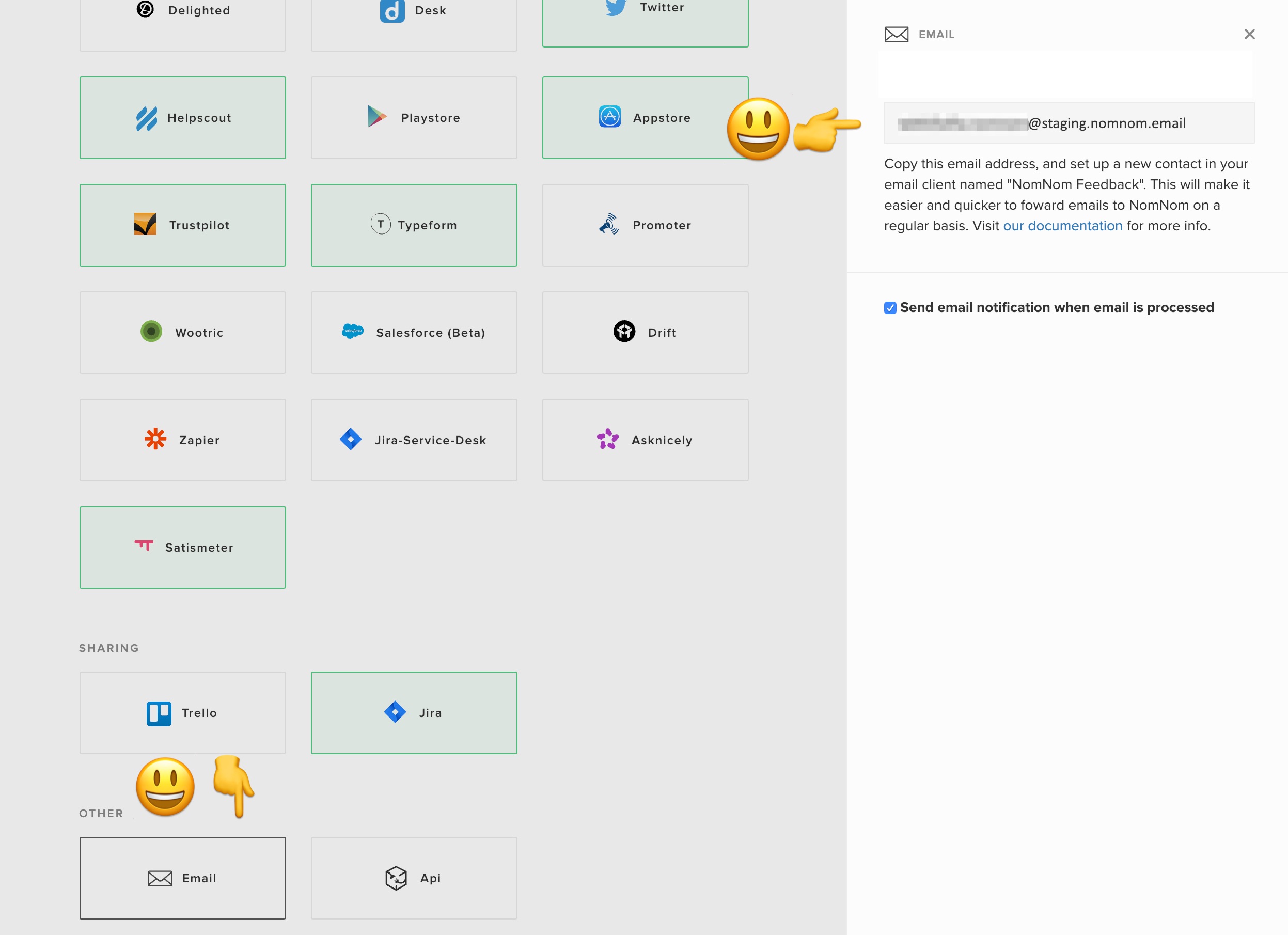 6) Using Zapier
Zapier is a web automation app. With Zapier you can build "Zaps" which can automate parts of your business or life. A Zap is a blueprint for a task you want to do over and over.
To see how to set up common Zaps using EnjoyHQ, please head to the  👉 Zapier section of this documentation.
7) Document Import API
Get the feedback living in your system, into ours! Import custom data using our Document Import API.
To get started please head to our API Documentation
---
In the left-hand column underneath this section, you'll see specific guides for each available integration, how to upload different types of manual documents, and available Zaps.
When your data is in, then the fun really starts! 🤓
Cleaning your data
Once you have connected or uploaded all your data, you may notice information you don't want to have in your account, this data could be receipts, auto-replies, etc. You can easily get rid of noisy data and get only the useful stuff in your account. You can learn about cleaning your data 👉
here
Learn how companies and teams of all sizes use EnjoyHQ 👉Success Stories
Why not book a demo with us? We would love to answer all your questions 👉 Book a demo here.
---
---